At last I've finally got round to writing a blog! I never know what to write in these so I'll tell you about my latest exploits at RSPB Ham wall in Somerset over the last couple of weeks. I have visited the reserve a few times over the years which only ends up being once a year. So last week I had a quiet period at work and spent 3 consecutive days there and a day the following week. I find this is a better way to get to know a place and was rewarded with some great images. My main goal was the elusive Great bittern preferably in-flight (image below). The problem with these birds is you never know where they are going to spring from but I had a friend on my side. The Weed Cutter! The cutters were busy tidying the place up a bit which spooked the birds as they went along the reed beds. I don't think the birds were too impressed but I got the shots I was after!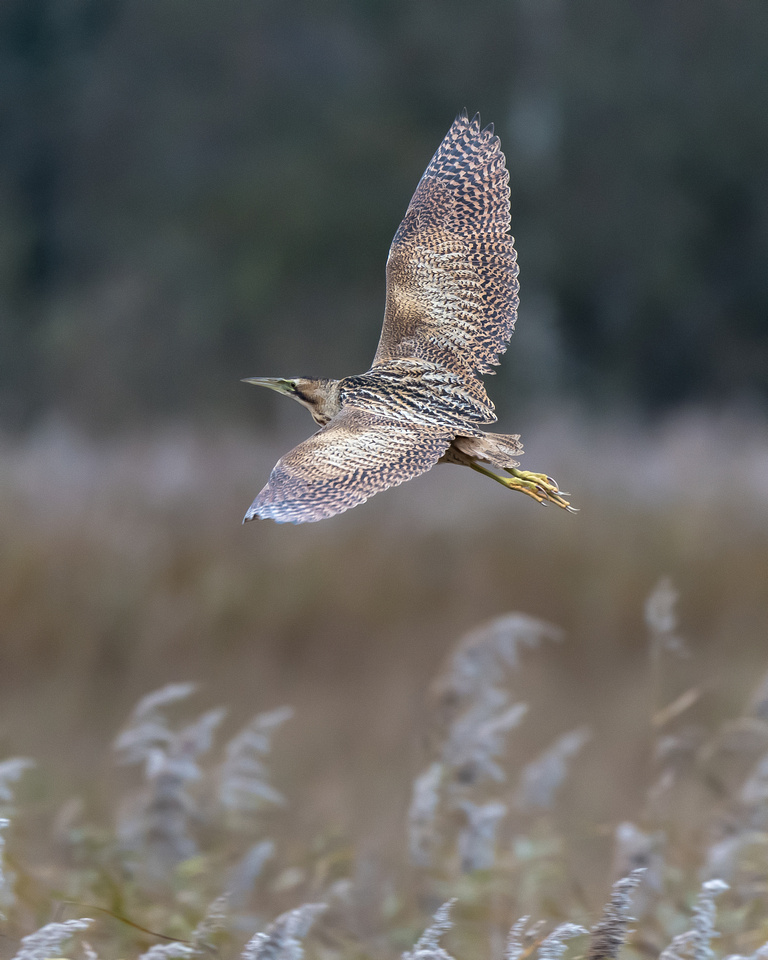 Great bittern (Botaurus stellaris)Great bittern (Botaurus stellaris)
RSPB Ham wall, Somerset.
Great bittern 'spooked' from the reed beds.
Walking round the reserve the little birds such as the long-tailed tits, bearded reedlings, reed buntings, cetti's warblers and goldcrests were busy calling and feeding up for winter. Just stop for 5 minutes and they will soon appear. While I was walking around Loxton's marsh, I heard a thrashing in the reeds and a roe deer appeared, she jumped in the water and swam to the next island. I watched this activity for around 10 minutes and she never spotted me. It's amazing what you can see at this place.
European roe deer (Capreolus capreolus)European roe deer (Capreolus capreolus)
RSPB Ham wall, Somerset.
Roe deer hind swimming between the islands on Loxton's marsh.
On one of my first visits a regular visitor advised me to sit at one of the screens dotted around the reserve for a couple of hours because you never know what is going to fly in or out of the reeds. So with a full flask of coffee and a bite to eat I found a screen and waited and waited! The little birds were everywhere and the 'Blue Lightning' kingfishers were darting about 'pipping' as they zip past. I also heard the distinctive 'ping ping' of the bearded reedlings but they were not coming out today. I did manage to catch up with them on my fourth visit.
Goldcrest (Regulus regulus)Goldcrest (Regulus regulus)
RSPB Ham wall, Somerset.
Common goldcrest. The UK's smallest bird.
The marsh harriers were out in force hunting for small birds usually teal (small ducks). After a couple of hours I went for a walk to the Avalon hide which is quite a walk. I've never had much luck with this hide, maybe things will be better this time. There were plenty of ducks such as mallard, widgeon, gadwall and teal and a preening great egret. These birds remind me of a white pterodactyl when they are flying!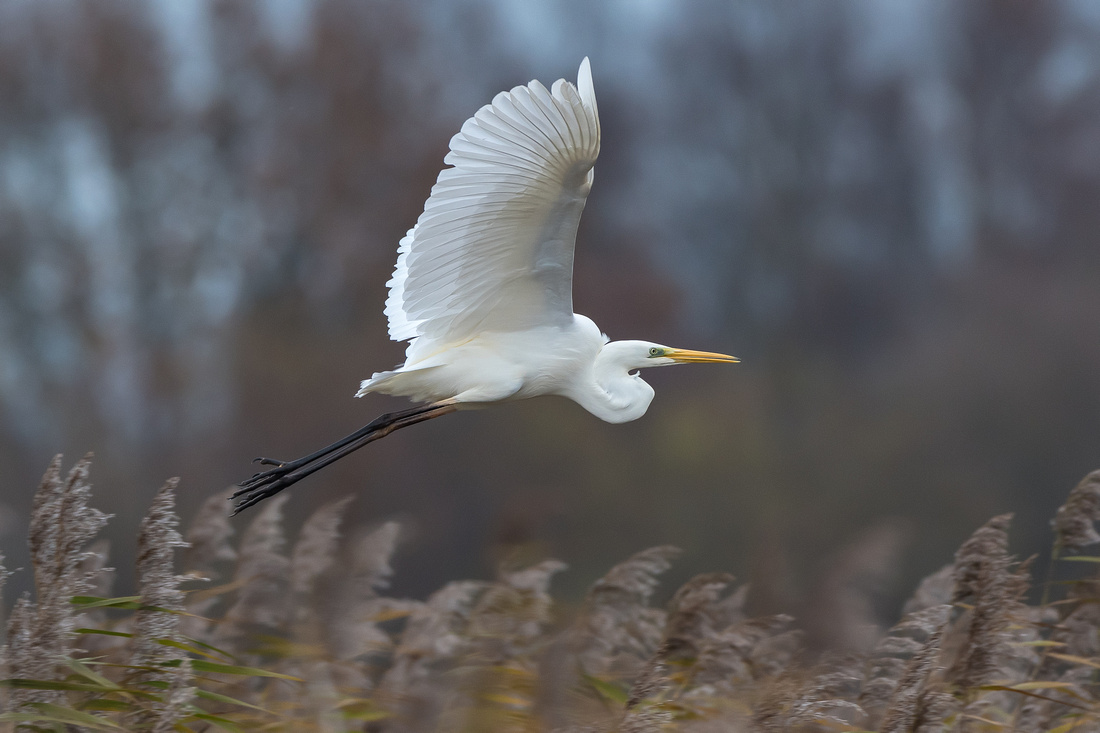 Great egret (Ardea alba)Great egret (Ardea alba)
RSPB Hamwall, Somerset.
Great egret flying over Walton's marsh.
On my 2nd & 3rd visits the weed cutters were still doing their job so I spent quite some time in the Tor view hide (great views of Glastonbury Tor). I got some good shots of the stonechats (male and female), Cetti's warbler, little egrets, marsh harriers and reed buntings. I could still hear the 'ping ping' from the bearded reedlings but they were deep in the reeds. I managed get another shot of the great bittern and a couple of great egrets chasing each other around the lake. The day was coming to an end so I watched the starling murmeration. Well worth visiting Ham wall for this alone. An amazing spectacle.
Grey heron
My final visit was 5 days later and it was bitterly cold (-3C!) and everything was frozen. The start of the day was very quiet but as the sun rose things started to wake up. The great egrets were still chasing each other and the kingfisher was looking for unfrozen areas on the pools. A walk over to the Avalon hide and I hear the distinctive sound of a 'squealing pig!), a water rail. A shy bird but when things are frozen they will appear on the hunt for food. Managed to get a couple of shots but it was too close for the 500mm lens I could only photograph its head! Nice shot though.
Water rail close-up on Avalon marsh.
Whist walking back to the main reserve I heard that 'ping pinging' again. I thought that's it, I'm not going until I at least see a bearded reedling. After only a couple of minutes they appeared. Six of them (3 pairs). That was the 'icing on the cake'. My visits all within a week or so had paid dividends and more. The bittern was my main aim, but with the egrets, goldcrests and the reedlings I was made up. I would have liked to have seen the Glossy ibis and the reported sightings of a rare Firecrest but there is always another day.
Bearded reedling (Panurus biarmicus)Bearded reedling (Panurus biarmicus)
RSPB Ham wall, Somerset.
Male bearded reedling on Avalon marsh.
I hope you enjoyed my first written account of what I get up to when I'm not maintaining aircraft. Please feel free to leave any comments or ask questions regarding any aspect of my photography.
More of my images can be viewed on my flickr page.
I hope you all have a Merry Christmas and all the best for 2018.
Steve