Well what a damp and miserable month that was! I can count the dry/sunny days we had in February on one hand. It doesn't help with wildlife photography either so visits to local zoos are the few places guaranteed to get some half decent shots. Most places I visit were flooded, even the Royal parks in London were closed some weekends due to some storm or another. I feel sorry for the people who lost everything due to flooding which seems to be a happening more and more up and down the country.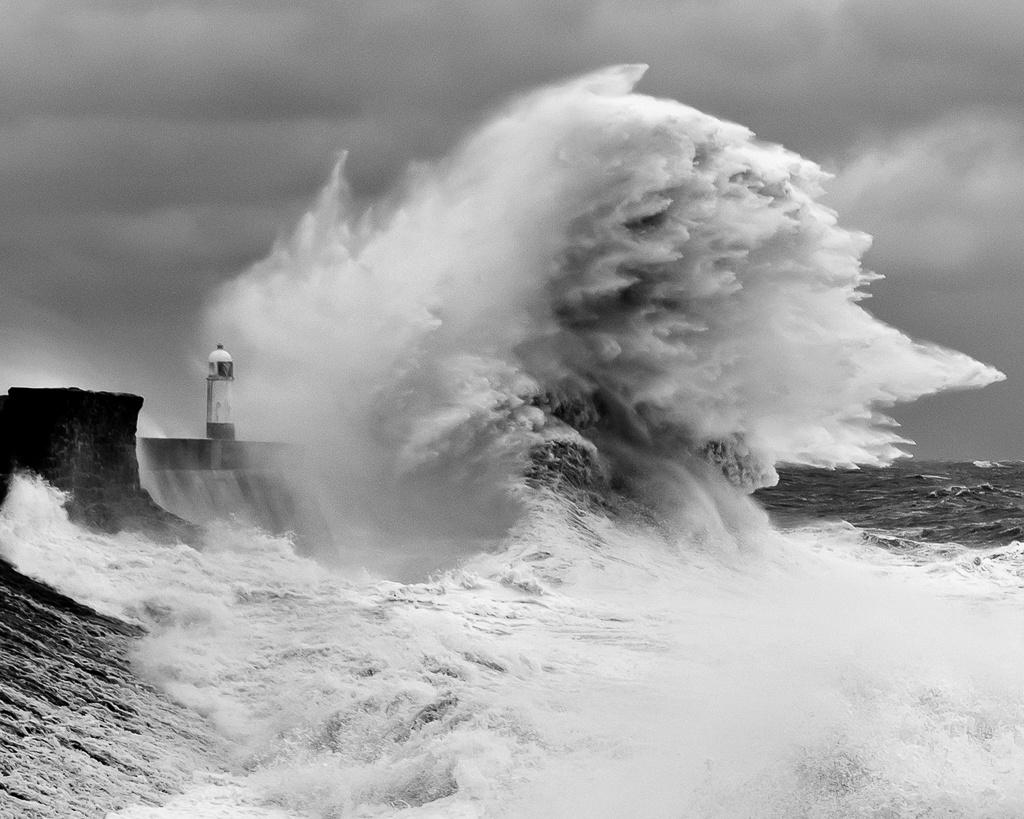 Porthcawl lighthousePorthcawl lighthouse
BUY from Photo4Me
Stormy seas at Porthcawl, South Wales.
At the start of the month I visited the wetland centre at Slimbridge to try out a new camera body. I've just taken delivery of a Nikon D850 which is a fantastic bit of kit. It has a 45 mega pixel full frame sensor which is nearly 3 times bigger than my other full frame D4 body! It records so much more detail and it is touted to be the best wildlife/sports camera body so far. The only problem with this larger sensor size is that it requires larger capacity memory cards which cost an arm and a leg! I wouldn't mind some decent weather to test it out!
Back to my Slimbridge visit. There was quite a lot of birdlife there as usual. Most of it was hunkered down away from the storms. Lots of wildlife will drop in here and shelter for a few days. Some of the Bewick's swans which Winter here all the way from Russia are already on their way back! Even this weather is confusing the wildlife. There were reports of ducklings around the site which I hope will survive the snowy conditions which are forecast. It's a tough life for wildlife but most of them cope and adapt to the conditions.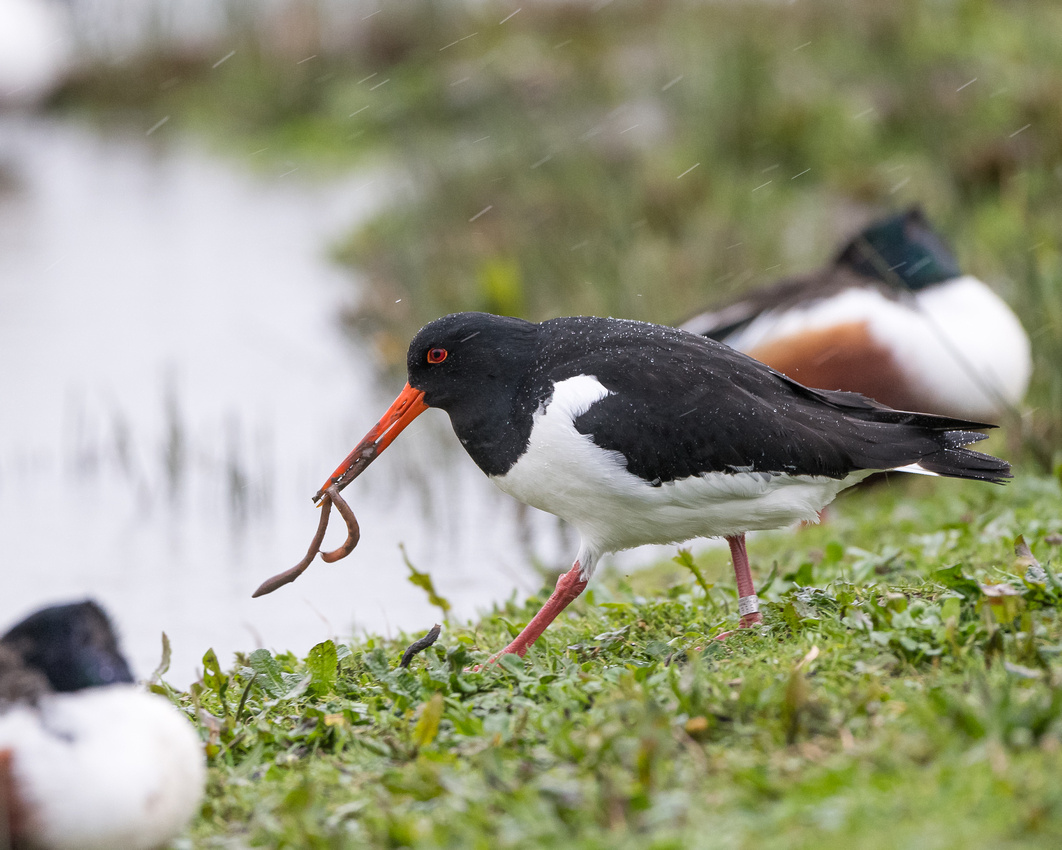 Pied oystercatcher (Haematopus longirostris)Pied oystercatcher (Haematopus longirostris)
WWT Slimbridge.
Oystercatcher off to wash his worm! They always wash their food before they eat it. Slimbridge.
A place I visited in February was London zoo. I last went there about 5 years ago so decided to risk the London traffic and pay a visit. Disappointing is the only polite word I can think of to describe this place considering what they charge to get in! I enjoyed my last visit and there was plenty to see. This time half the enclosures were empty and the place seemed run down. I managed a couple of shots of the Tiger and a penguin then came home. Never again.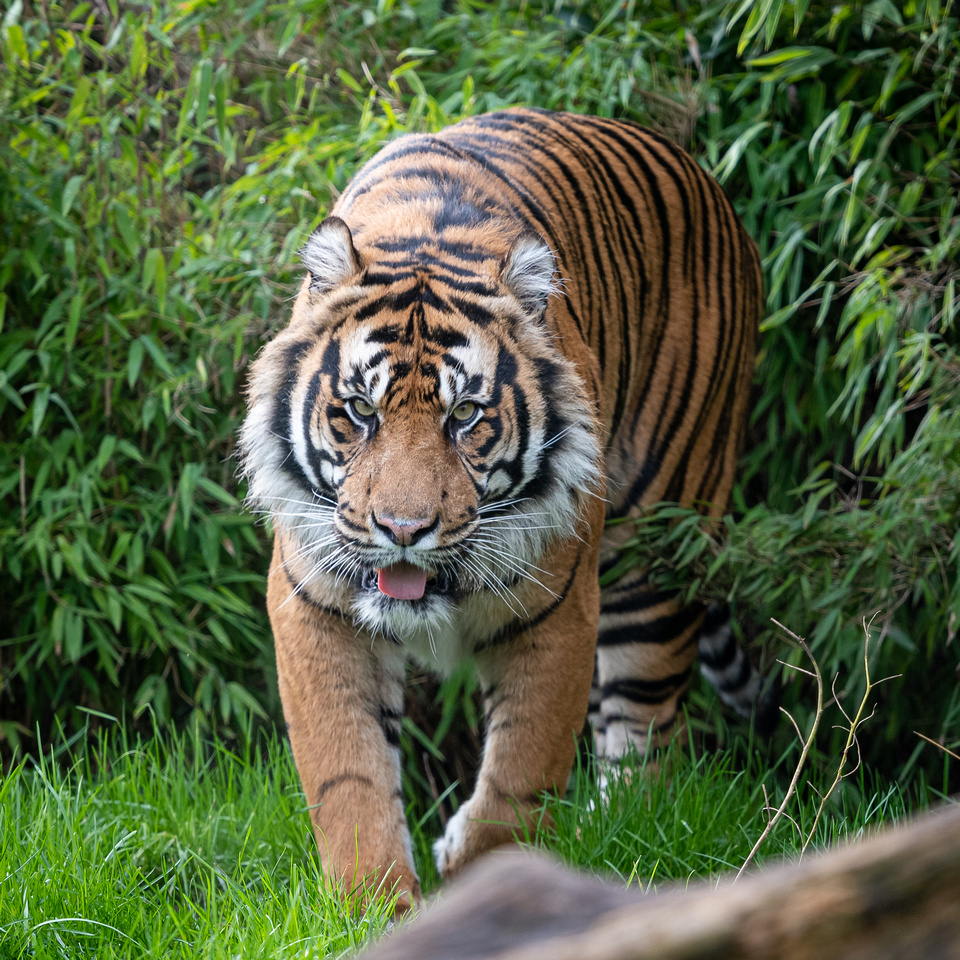 Sumatran tiger (Panthera tigris sondaica)Sumatran tiger (Panthera tigris sondaica)
ZSL London zoo.
Sumatran tiger. London zoo
Next was a visit to my all favourite place, the British wildlife centre. You can't go wrong with this place. Always something to see and photograph and the keepers are friendly and very knowledgeable. A great place to chill out and see some great British wildlife. In Winter stoats turn colour from their usual reddy brown to all white (ermine) and this was my aim of the visit and also get used to my new camera body. I managed a quick glimpse of the white stoat before she shot back in her hole!
Stoat (Mustela erminea)Stoat (Mustela erminea)
British wildlife centre, Surrey.
'Susie' the stoat in Winter colours at the British wildlife centre.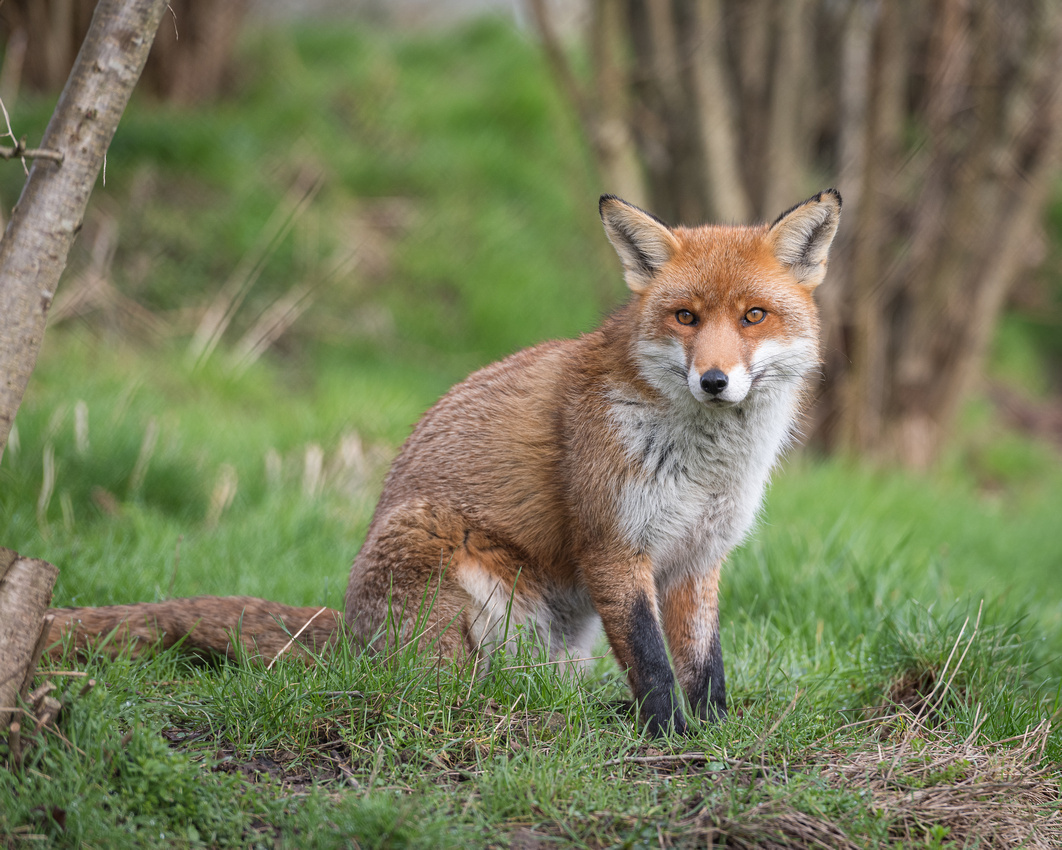 'Basil'Red fox (Vulpes vulpes)
British wildlife centre, Surrey.
'Basil' posing for the camera! BWC
I went in search for owls at my local reserves (Otmoor & Farmmor) in Oxfordshire. Both these places were flooded in places, which was covering most of the owls hunting grounds. Lots of other wildlife there but it was too windy/rainy for the owls. On a different note I see owls (Barn & Tawny) on my drive to work in the mornings but it is a bit too dark for photography!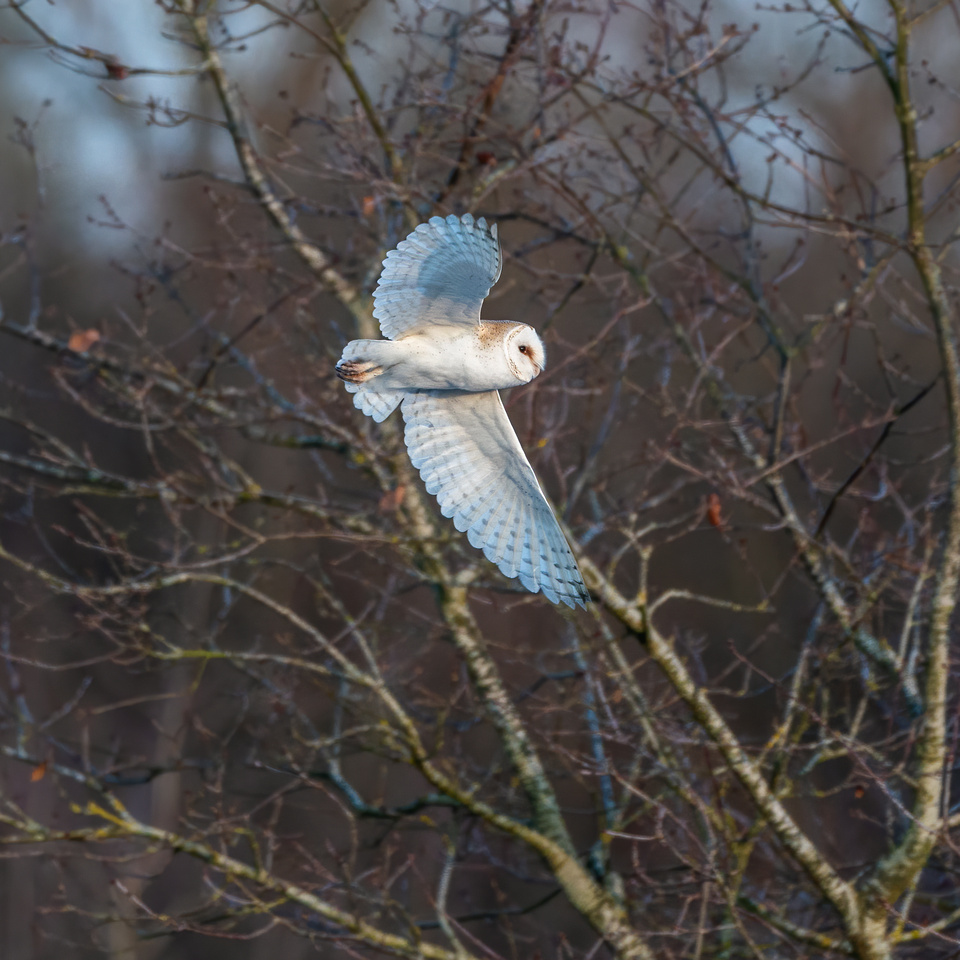 Barn owl (Tyto alba)Barn owl (Tyto alba)
RSPB Otmoor, Oxon.
Barn owl at RSPB Otmoor (last year!)
Of all the different kinds of birds, it is the birds of prey which interest me the most. A place I visit every couple of months is the Hawk conservancy trust near Andover in Wiltshire. They were shut over January to carry out their annual maintenance. A few days ago I paid a visit and had an enjoyable day as always. They have three different flying sessions during the day with different birds. The first session is the woodland setting where different owls can be seen. If the conditions are right with a bit of decent sunlight you can get some great flying and posing shots here. Definitely worth a visit here anytime of the year. They fly and rest certain birds at different times of the year so you will always see something different.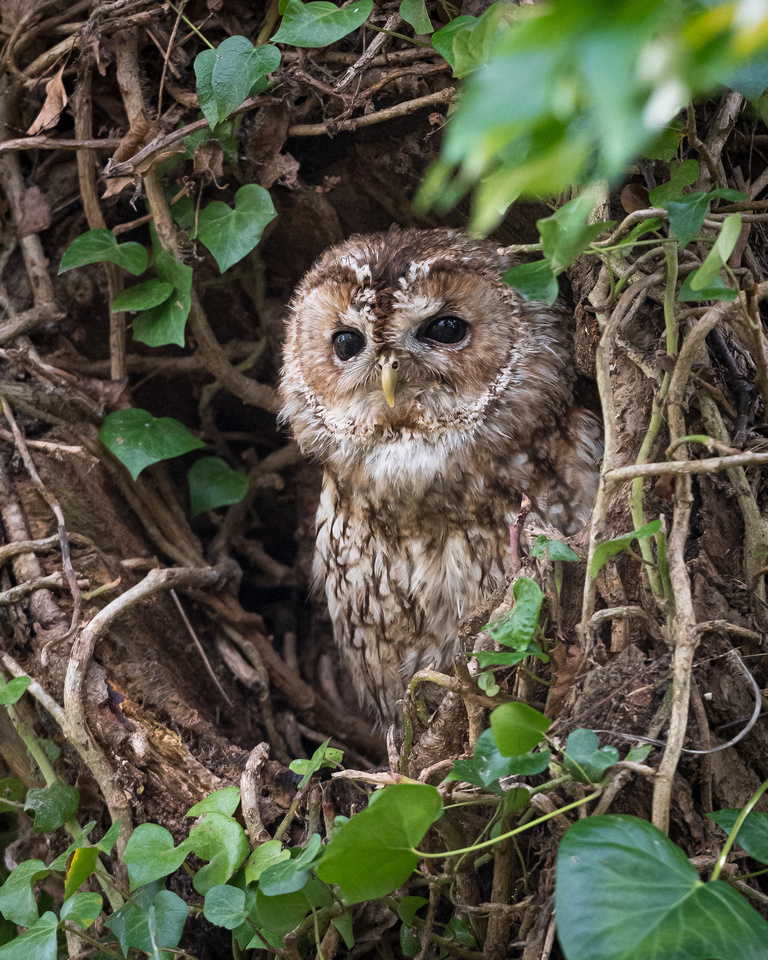 Tawny owl (Strix aluco)Tawny owl (Strix aluco)
Hawk conservancy trust, Weyhill, Wiltshire.
Tawny owl at the Woodland flying session. Hawk conservancy trust, Wiltshire.
White-backed vulture (Gyps africanus)White-backed vulture (Gyps africanus)
Hawk conservancy trust, Weyhill, Wiltshire.
White-backed vulture portrait at the Hawk conservancy trust. Note the extra detail my new camera body has captured!
As for next month I'm hoping we will have some Spring like conditions. Fingers crossed! I haven't much planned for March yet but I'm hoping for some images of the hares which are usually courting then. A shot I would like is when they start boxing. This usually happens when the male hare gets a bit too amorous with the female and she starts a boxing bout with him!
Please continue to upload your photographs to my Photo's Page. There are some great photographs being posted.
Many more of my images can be viewed on my flickr page and Instagram.
Thanks
Steve